NOPC NEWS
---
Feb 2003
Our next meeting will provide you with a visit from an old friend to user groups, Matt McCann. This trip he will show us how to get the most out of our digital images as well as video using some extraordinary software from Ulead.
PhotoImpact 8 was designed to meet the specific needs of digital camera users and photographers for managing, enhancing and sharing photos. At the same time, PhotoImpact provides a complete set of tools for Web and graphics enthusiasts who want professional results without a steep learning curve.
Everything You Need for Digital Photography



PhotoImpact takes you every step of the way from transferring and organizing photos to enhancing and sharing images. Equip yourself with the same tools and techniques professionals use to make photos come alive.
In addition to working with your pictures with PhotoImpact, Matt will also show off DVD Picture Show 2.0 Digital Camera Suite
About DVD PictureShow 2 and Photo Explorer 8.0DVD PictureShow 2 offers guided steps and a drag-and-drop interface to make assembling slideshows simple. Create multimedia slideshows now with video clips and digital images. Save time with a new Batch Collect tool to insert multiple image folders into a slideshow project all at once. Forty-two new transitions such as dissolves and wipes liven up slideshows, while voice narration and background music with support for WAV and MP3 files further jazz up slideshow creations. Personalize each photo by describing or adding comments directly on photos with the software's text caption tool. As a final touch, choose from a variety of ready-to-use, Hollywood-style DVD menu templates with themes such as holidays, vacation and business, or create personalized menu backgrounds with any digital image. A built-in CD label and index creation tool completes the package to create a polished slideshow disc.
Photo Explorer 8.0 offers easy-to-use features for capturing, organizing, and editing photos. New features include an auto slice tool for slicing a scanned group of images, a CD catalog tool that scans a CD and stores image thumbnails that can be viewed without the CD in the drive, as well as new tools for editing images and adding effects.
Plus there will be special pricing on the software that Matt brings to show us. So come prepared to take the same software home with you. As always, this is one meeting you won't want to miss!
---
October 2002 NOPC Meeting Cancelled
Due to the projected approaching bad weather, the Board Of Directors has
elected to cancel the New Orleans Personal Computer Club's general
membership meeting scheduled for October 2, 2002. We feel that the safety
of our members from harsh rain and potential floodwaters is much more
important than a computer meeting and advise everyone to drive safely to
wherever they are going. We fully intend to hold the rest of the scheduled
NOPC SIG meetings throughout the month as well as the next general
membership meeting scheduled for November 6th.
This also means that we will need to push back our elections. In order to
be as fair as possible, we will continue to accept nominations for the NOPC
Board through the month of November and will hold the election during the
December meeting.
We appreciate the increased attendance at our last few meetings and hope
that you will continue to support the New Orleans Personal Computer Club.
Ray Paternostro Jr.
NOPC President
---
"Living With Home Electronics"
As most of you know, Gerry McCann runs the radio show "Living With Home Electronics" every Saturday morning from 10A to 11A on WTIX 690AM. Perhaps some of you caught this past weekend's show in which Ashton and myself were the featured guests.
This coming Saturday, Gerry will be out of town and has entrusted us to run
the show ourselves. I invite you to listen and call in with your computer
questions that we might be able answer on the air. While the questions can
sometimes get deep into computer hardware and software, the show also covers home audio and video equipment.
The phone number is 260-WTIX (9849)
---
Computer Club

The Computer Club is a national organization of computer users and
professionals that helps people through direction and information. The site
provides a complete directory of computer information services including
links to help files, tools, downloads and more.
The goal of the club is to provide easy access to information related to
computing and technology; including events, meetings, web sites, and
organizations. The Computer Club also provides members with special deals on
computers, hardware, software, training, computer help, technical support,
and computer jobs.
The web site contains links to the top 100 computer sites and a referral
directory. The club's resource directory provides information on meetings to
help computer users find a group that meets their needs. There is no cost to
list your group in the directory. It's Free! All I ask is that you place one
of our logos with a link back to our site.
In addition to driving traffic to your group. The Computer Club provides
awards and recognition. Awards of Excellence are given to organizations like
yours that provide computer services to the community. To sign up just
follow this link http://computerclub.org/forms/club_listing.htm
---
Flea Market Rules of the Road

After much discussion and planning, here is what the Board Of Directors has come with for the NOPC Flea Market 2002:

The flea market will be held on July 13

th 2002 from 10AM to 1PM in the cafeteria of J.D. Meisler school where we hold our monthly meetings. All participants will have one hour to set up at 9AM and one hour to clean up at 1PM. We must be out by 2PM, and have the cafeteria in exactly the same condition as it will be when we come in. If there is equipment left over that is unwanted please dispose of it properly, either in the dumpster or in an environmentally safe manner. If any equipment is left behind in the cafeteria, the NOPC cleanup crew will have to deal with it and we will be working hard enough already!

The flea market will take the place of the July monthly general membership meeting; there will be

NO meeting on July 3!

The cost to have a table is as follows: $15 for members, $50 for non-members. The cost for non-members includes a one year $35 membe

rship rate in the club. NOPC accepts as payment cash and checks. (Sorry, no credit cards.)

Everyone who participates as a seller will be allocated at least one of the circular tables in the Meisler cafeteria, which are about 5 feet in diameter. Many of t

he sellers at past NOPC flea markets have used two tables without being crowded; we expect this to continue.

All participants (except sellers) will be asked for a $2 donation, which will be collected at the entrance to the cafeteria. After this is collect

ed, a raffle ticket will be issued. The donation does cover family members.

We will have soft drinks and hot dogs available for sale.

Computers and computer-related items only, please. This includes all computer related equipment and peripherals, even th

ose that can't or don't run the Windows operating system. This also includes video games, both for computers and the console game machines. This does not include household appliances, tools, music CDs, or other home entertainment items. Computer furniture such as desks are okay; beds and tables are not.

We will have copies of Norton Systemworks 2002 and a copy of Adobe Photoshop LE as door prizes to be given away.

Both individuals and merchants can be sellers at the flea market. Merchants are encoura

ged to bring promotional materials for their business.

NOPC makes no warranties for the functionality or usability of any equipment or software that is sold at the flea market. The prices for any given item are set by each individual seller.

Absolutely no

pirated software of any sort! Anyone caught engaging in this will be asked to leave.

We will have a security guard to make sure everyone behaves themselves.

Everyone who would like to participate as a seller, please email Ray at

NOPC will have several newsletters, brochures, and business cards available at the entrance for interested prospective members. Anyone who knows someone who mig

ht be able to benefit from an NOPC membership is encouraged to pass along one or more of these items.
---
NOPC News will be presented here... Do you have some PC related news? Send it to the webmaster: webmaster@nopc.org
---
***************************** P R E S S R E L E A S E *****************************

Intel to Roll out Mobile Intel

® Pentium® 4 Processor – M in Baton Rouge May 2nd

Lucky Attendee to Win New Mobile Intel Pentium 4 Processor

– M Laptop Computer

April 10, 2002

(Baton Rouge, LA) - Intel Corporation has chosen Baton Rouge, Louisiana as one of five cities nationwide to roll out their new Mobile Intel Pentium® 4 Processor-M. This special event will take place at the Cajun Clickers Computer Club monthly meet on May 2nd, 2002 at 6pm. Location for this event will be the Christian Life Fellowship Auditorium, 2037 Quail Drive, Baton Rouge, Louisiana. Attendance is free and open to the public. Intel will be presenting the new Mobile Intel Pentium® 4 Processor – M for enhanced performance and mobility, with details targeted specifically for a technically inclined audience. One lucky attendee who completes an Intel survey will win, compliments of Intel, a new laptop computer with a Mobile Intel Pentium 4 Processor – M inside. Don't miss this golden opportunity! Come see why over one thousand local computer enthusiasts, both experts and novices alike, have joined the Cajun Clickers Computer Club. Cajun Clickers Computer Club information and membership applications will also be available at this special meeting. For additional information call 926-9651 or go to Cajun Clickers Website at www.clickers.org.

Outstanding Mobile Processor Performance

The power of the Intel® Pentium® 4 processor is now available for your mobile PC applications. With processor speeds up to 1.70 GHz, the Mobile Intel Pentium 4 Processor

– M offers outstanding performance and extended battery life for real-time conferencing, streaming video, graphics presentations, and other multimedia applica tions. Its many advanced features like Intel® NetBurstTM micro-architecture, Deeper Sleep, and Enhanced Intel SpeedStep™ technology makes it one of the thinnest, coolest, fastest, and versatile 32-bit processor available for mobile computing.

Explore the Benefits of Mobility

The Mobile Intel® Pentium® 4 Processor

– M gives you the mobility you need, the flexibility you want and the lifestyle you desire. Not only are today's mobile devices smaller than ever, but they offer high performance, extended battery life, seamless connectivity, and thinner, lighter systems to enhance your mobile experience.

Power of Mobility: Now you can get the performance of a desktop processor in a thinner, lighter package

— the Mobile Intel Pentium Processor – M family. At speeds up to 1.70 GHz with a 512 KB on-die cache, fast system bus, and performance enhancements like SSE2, Data Prefetch Logic, and Rapid Execution Engine, you'll have enough power to handle the most data-intensive and graphics-rich programs.

Freedom of Extended Battery Life: The Pentium Processor

– M family provides the most efficient use of power and extended battery life on the market today. Enhanced Intel® SpeedStep™Technology dynamically optimizes application performance and power usage. Deeper Sleep extends battery life in dynamic power management mode. Low Volt and Ultra Low Volt processors designed for super-thin and light sub-notebook PCs can provide over 7 hours of battery life.

Convenience of Wireless: Intel mobile technology enhances your ability to work within wireless networks. The efficient power management and lower idle power states improve your PC's battery life while using wireless LAN. In addition, speeds up to 1.70 GHz provide the performance you need for faster data transfers.

Versatility of Size: Intel's innovations in thermal and chip packaging technologies have enabled mobile PCs to evolve from the luggables and portables of yesteryear to some of the lightest, thinnest, and most advanced notebook PCs on the market today.

Intel, the world's largest chip maker, is also a leading manufacturer of computer, networking and communications products. Additional information about Intel is available at

* Other names and brands may be claimed as the property of others. Intel is a registered trademark of Intel Corporation or its subsidiaries in the United States and other countries.

To receive customized news from Intel Corporation direct to your email, subscribe to the Intel Newswire at

http://preview-appzone.cps.intel.com/pressroom/IntelNewswire.asp
---
May 2001 - Save the NOPC Club some Money
Membership Newsletter Discount
$5 discount for all new/renewal memberships for those people who sign up for an electronic only newsletter.
Need for Newsletter Articles - please email articles to bod@nopc.org for submission into the NOPC Club Newsletter
---
January 2001 - New PC for SIG meetings
Ray Paternostro assembled our new PC. Thanks Ray.
See the assembly in progress... Club PC
---
November 2000 - Board Members Elected Unanimously
Blood Drive received 7 pints of Blood - We didn't quite reach our goal of 15 pints this year.
---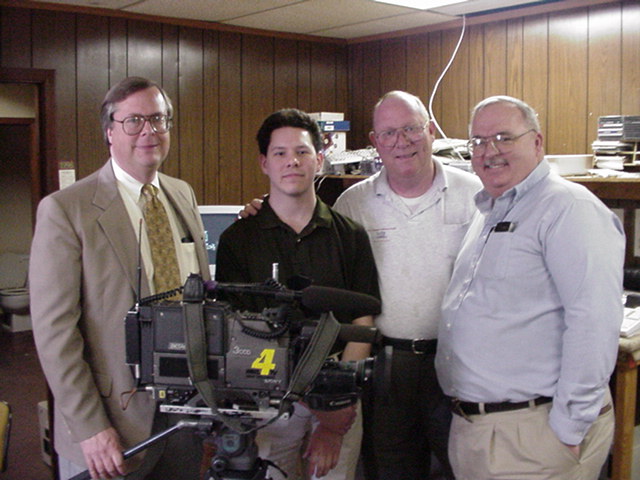 Board Members meet CBS Channel 4